My name is Todd Shelton, and I'm the CEO of Phillips.
Our team comes to work every day with the goal of being your preferred service provider. We know that begins by earning your trust and delivering great service to you. When we asked our local and independent customers where we could help, the response was clear. Local stores need new tools to serve their customers as technology changes and consumer demands for convenience increase.
To answer that call, we want to help you do three things:
Offer your customers all of the items they want, including the ones that don't fit in your store
Ship those items to their homes, and make sure you can do so profitably
Market to your current customers, and many more in your area, to visit your store
Getting this done is hard and, frankly, outside of what we're good at. It became clear that the best way to deliver capabilities quickly and effectively would be to purchase an online retailer, and CONVERT them into a resource for you. To that end, we are pleased to share that we have acquired the assets of PetFlow.com, and are now re-directing their efforts to support your store.
We WILL NOT compete with you.
We are converting PetFlow into tools for you: A home delivery platform, a digital marketing engine, and an online team to help you engage your changing customer.
While PetFlow will continue to serve its existing customers, we want to be clear: we are not seeking to grow a business directly with consumers. PetFlow has about 140,000 customers today, which represents about 3 people per zip code. By our estimates, local pet stores have more than 150 customers in any given zip code, and we want to help you grow that number.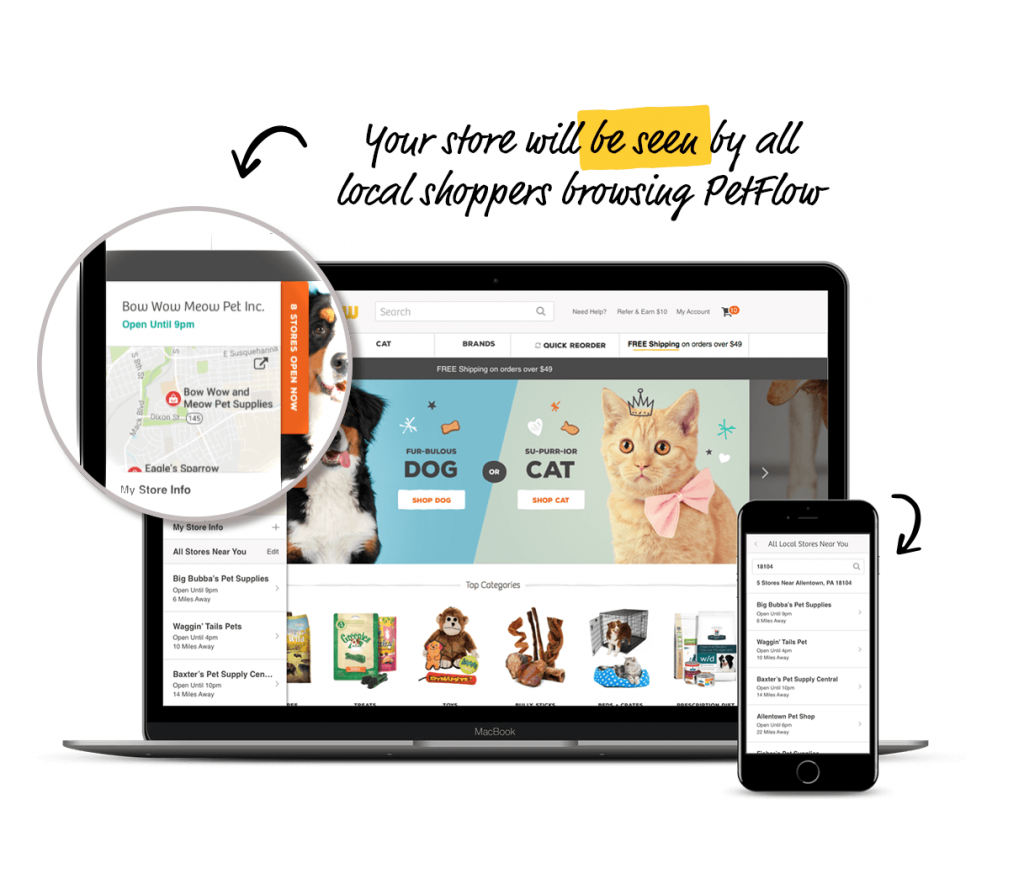 Converting the business will take some time, but we have already started. PetFlow now features local stores, like yours, based on the location of anyone who visits the site. Each consumer will be encouraged to pick a local store as their favorite, so we can tell you what shoppers in your area are doing online, and can give them reasons to go to your store instead. Our top priority is to help you grow your business by bringing more people into your store, and if you go to the site today, you will see local, targeted content doing exactly that.
At the same time, the team is hard at work transforming the platform into a dedicated resource for local stores. By this summer, we will offer you access to an Endless Aisles solution, which will allow ANY local retailer to sell thousands of items that they don't have in stock, right from the store counter.
So how will this work?
This will be a separate platform, built for local retailers. If you can access the internet in your store, you can use the site to sell products without any inventory.
You'll own the data, and no one will stand between you and your customer. We'll ship to your customer from our warehouses in a brown box with your name on the label. You'll pay your normal wholesale price, and a handling fee, and we're confident you'll make money.
We'll be signing customers up in a few months at SuperZoo. More details to follow. Download the PDF here »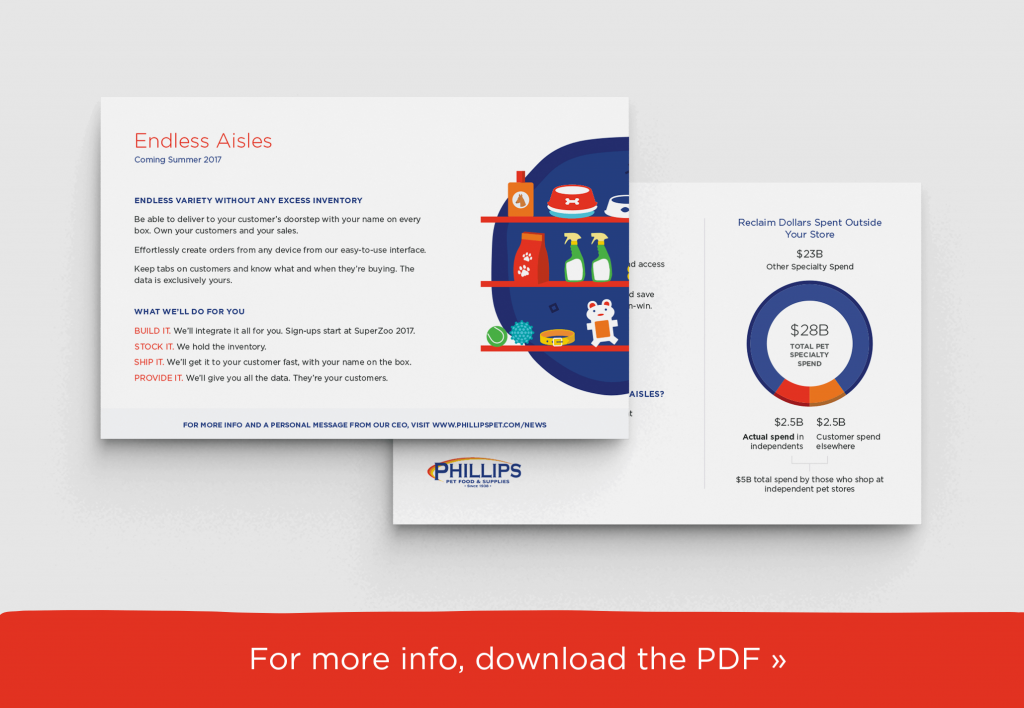 Our new digital marketing team is also working with our brand partners to bring you advertising campaigns that are fully funded, reach customers online and send new customers to your stores.
These actions represent the first steps in our effort to offer retailers and brands services to help them delight consumers. At the same time, we recognize that Phillips has been through many changes over the years and our new leadership team has heard your concerns. We need to earn your confidence with consistent, reliable service for your store. That means building the industry leading distribution platform. We apologize that our service hasn't consistently delivered what you ordered, as it was requested and on time. We are making significant investments to upgrade our systems, train our people, and inventory the products you want, so that we can bring you the best experience in the industry.
Our goal is to be your preferred service provider and we're doing everything we can to make that happen. If you have any questions, the Phillips team and I are available to meet your needs.

Phillips Pet Food & Supplies
The Vision Behind Endless Aisles
Announcement from Todd Shelton, CEO of Phillips Pet Food & Supplies from Phillips Pet Food & Supplies on Vimeo